2017 is shaping up to be a great year for digital marketing. In this blog series, we'll cover digital marketing trends that will rule 2017, each with its own difficulties and rewards. This week's trend is…
Content Marketing is Still the Dominating Marketing Technique
Content – good content – has gone from being a breakout strategy in 2005 to being crucial for all digital marketing strategies. It even outranks Online PR, Social Media Marketing, CRO, and SEO as the most effective marketing strategy. So stop focusing on paid search marketing and start churning out high-quality content.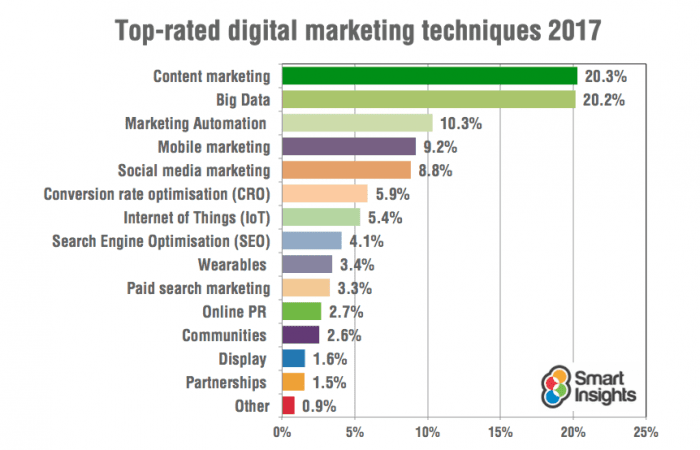 Content Marketing Leads to Good SEO
Consistently publishing high-quality, unduplicated content goes a long way to build good SEO. Internal and external links, keywords and relevant information helps organically link a website to relevant keywords and online searches. Not only will your improved SEO drive more traffic to your website, but engaging content will keep users interacting with your site longer.
Content Marketing Encourages Interaction and Generates Leads
That increased traffic and user engagement leads to more leads and sales isn't surprising. But again, it all relies on the quality of your content. Bad content is "salesy" and is more likely to scare consumers away from your site than draw them in. And if your target market is younger consumers, they will be even more perceptive to "salesy" content. Drowning consumers in product-oriented content can have a negative effect on their relationship with the brand, whereas good editorial fosters the relationship as they move from consumer to customer to brand advocate. Focus less on pushing your brand on consumers, and more on explaining the value of your brand or product, like how it can solve a problem for consumers or teaches them something new. Developing a strong voice and a consistent brand builds authenticity and will stand out in a social media market that is already saturated with bad content.
Stay tuned to learn more about how to make quality content. If you'd like to know more about what content marketing can do for your business, read a recent blog post or get in touch with us!